An Interview with Prashanth


As a romantic hero, Prashanth has been a hit. Jeans, Parthein Rasithein and Chocklet have reinforced his loverboy image. With the success of Tamizh, he has gained yet another image, that of a mature guy. He speaks about his career and personal life in a brief chat..
.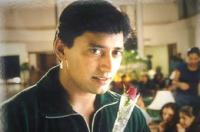 Now that Tamizh is a winner, donít you think you can easily go on to more mature roles?

Thatís right. Even during the making of Tamizh, we had a feeling that it was going to be a success. Generally one gets the feeling during the progress of the film itself as to whether it will run or flop. Similarly when we were shooting the song ďMalai malai ... from Chocklet, I had told everyone that it would be a hit and it happened so. It was an entertainer and it did entertain. Same was the case with Star, though it had music by AR Rahman and Jothika in the female lead, I had a gut feeling that it was not shaping well. Ten years, I think, is a long time for one to judge about the fate of films he is working in.

Howís Winner shaping up?

Sundar C is working hard on the script. This film too would see me in a different role. It has lots of comedy and action. Mind you, I had to be hospitalised due to an accident while doing a fight scene for this film. Enna Villai Azhage with Amisha Patel is on the floor. Virumbikiren is finally getting ready for release after being delayed because of financial problems.

After Aanazhagan, why havenít you produced any film?

My father, actor Thiagarajan, is planning one in which the two of us will act together. But it is too early to talk about it at this stage.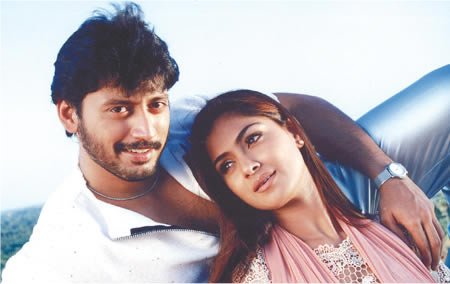 For Tamizh, you have changed your physical appearance.

I love to do films that need me to look different physically. I think more than changing getups or makeup, you need to make real changes in your body structure. Only then will it impress the audience. I usually workout for three hours in the morning. For the film, I pumped more iron and built up my muscles. I also grew a beard and even smoked a cigarette, which I donít do otherwise. It makes me happy when the film runs and people notice me and my change in it.

But competition is hotting up in the film scene as new guys are giving hits. What are you doing in this regard?

You see, I canít be acting in all the 80 odd movies made every year. I get my decent share. In fact, this year I have turned down many offers. Most the time, producers who come with the promise to make lavish productions start cutting corners. They want to pocket as much money as possible after taking money from the market. I, as the hero, is the casualty in such a case. So hereafter l will work only if I am convinced about the producer and the directorís sincerity in their work.


Your father is accused of interfering during the shooting of your films.

I personally think it is perfectly alright to take the advice of my dad. If a family member is from the industry then I think itís right for him to point out your flaws. I donít know how people can blame him for pointing out my mistakes while I am at work.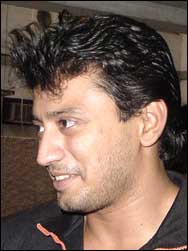 You took the blessings of Chief Minister Jayalalitha on your birthday this year. Does that mean that you are pro-AIADMK?

Last birthday I met Kalaignar (ie. DMK Supremo Karunanidhi) who was the then chief minister. It was he who gave us the title Tamizh for the film. This year I met Chief minister Jayalalitha Madam. Itís just a visit, nothing more.

In fact I am honoured that she gave me some of her time as well as blessed me. I know that many people even VIPs are waiting for an appointment to see her. And I considered myself lucky that I could met her personally.

Who is your favourite heroine?

Most of the time I discuss the scenes with my heroines. Rinkie Khanna who co-starred with me in Majnu was a great help. She has a theatre background and her suggestions were good. I also vibe well with Simran who too joins in the improvisation of scenes.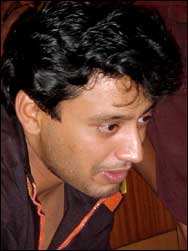 How is it that you have managed to be free of rumours? And were never linked with anyone?

For me, life was just home and school when I was young. I studied in a boyís school therefore there was no chance of seeing or dating anyone. When I joined films, I concentrated more on my career and roles. Even now my career takes topmost priority. My lifestyle is very simple. I wake up at 5 am for my workout. By 9 am, I am ready for work. On days when I am not shooting, I am busy listening to stories with my directors. In the evenings, I play billiards and have a swim in my house. By 9 pm, I am off to bed. So tell me, where is the chance to romance?

How would you like your life partner to be?

Let me see. I think she should be a beauty like Aishwarya Rai (I acted with her in Jeans ), should have a figure like Simran, round eyes like Jothika, a dimpled smile like Laila, as simple as Sneha and as sensuous as Mumtaz. If you met anyone who has all these qualities please bring her to me. (Laughs)