Dhool
(Vikram - Jyotika - Reema Sen)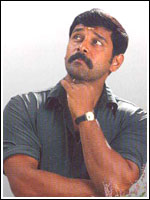 The Dharani - Vikram teaming had resulted in the successful film 'Dhil'. Now the duo come together in yet another film titled 'Dhool'. Produced by A.M. Ratnam for his Surya Movies, 'Dhool' has Vikram paired with Jyotika and Reema Sen. It's Vikram's first pairing with Jyotika, and Reema Sen's second Tamil film after her debut in 'Minnale'. The film's supporting cast includes Vivek, Sayaji Shinde, Kalabhavan Mani, Mayilsami, and Kottachi. Gopinath cranks the camera, while the film's music is by Vidyasagar. The sets are designed by Maniraj, editing is by V.T. Vijayan, and the dance and stunt choreographies by Kalyan and Rocky Rajesh respectively.
Says director Dharani of his film. "It's an out and out action film with romance and comedy weaved in. It's about an educated youth from a village who comes to the city in search of a job. The experiences he has in the city forms the crux of the story. It's the same technical team that had worked with me in 'Dhil'."
Says hero Vikram, "Though there will be action, I get to do a lot of comedy here. It's the first time I'm acting with Jyotika. She's so expressive in the song sequences. I've to be on my toes all the time I'm acting with her, I'd call her a lady Kamal Haasan!"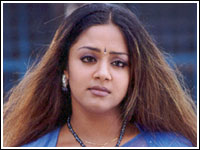 The film is to be shot mostly in Chennai and neighbouring locales. A huge set of a temple, a church, some houses and a shopping area, was erected at the Indian Express Office premises. Taking part in the day's shoot were Vikram, Jyotika and Reema Sen. The scene had Vikram exercising on the terrace of his house, and Reema Sen flashing admiring glances towards him, which had Jyotika seething with fury. Vikram was in a dhoti, and his whole look was that of a rustic. Jyotika and Reema Sen play friends, Jyotika, the village belle and Reema, the modern miss. Both of them love Vikram and whom he opts for is the suspense.
Kalabhavan Mani plays a police inspector, and his mimicking the prisoners he interrogates, is reportedly one of the highlights of the film. 'Dhool' is slated for a Diwali release.