Ice
(Ashok, Priyanka Trivedi)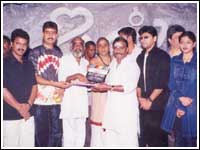 Debutant Ashok and Priyanka Trivedi team together in 'Ice', the maiden production venture of Sherif Ahmed for his Joy Entertainment. Earlier it was Gayatri Raghuram who was to play the heroine. Now she has been replaced by Priyanka. Wielding the megaphone is R. Raghuraj who had earlier directed the Tamil film 'Shakti'. 'Ice' is the remake of the director's own successful film in Telugu - 'Kalasu Kovalani' - which ran for 144 days at 33 centres in Andhra.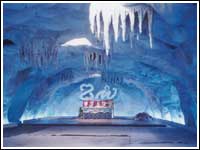 The supporting cast has Yuvarani, Devan, Mouli, Haripriya, Vivek, Madan Bob, R. Sunderarajan, Balu Anand and Anandraj in the cast. Devi Prasad the popular music director of Telugu films sets the tune for the film. Cranking the camera is Shri who had apprenticed with P. C. Sriram. While the sets are designed by M. Prabhakar, the stunt and dance choreography are by Shiva and Cool Jayant respectively.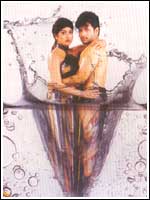 Debutant hero Ashok born in Pondicherry and brought up in Singapore, has trained himself in dance and stunts. At the YMCA grounds, Chennai, a song was picturised on the hero. After a schedule in Chennai, the unit shifts to locations abroad. Italy, the Alps, Australia, Vienna, Germany, Switzerland are the places where the original Telugu version was shot. Says the director: "It's a youthful love story. Ice plays an important part in the meeting of the lovers, their separation and their re-union. Hence the title."