An Interview with Simran
Frail and sensitive one moment, strong and steel-like the next, this svelte beauty from Mumbai is indeed intriguing. Simran is a name to contend with in the cinema of the South today. And meeting this busy star is not easy... or that's what you think. But just a call and she asks you to come over.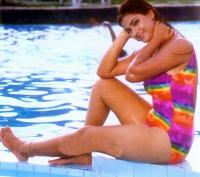 Apollo Hospitals, Chennai, has a glamorous glow that day. Director Mouli is busy getting things in order for the shot. You pass the wires, lights, people and the camera, and enter Simran's room. Lounging on the cot, a calm and cool Simran welcomes you.
The shooting for Pammal K. Sambandham, is on. Her first film with Kamal Hassan.
Simran lives in Chennai now. But it all began in Mumbai, with DD Metro. Simran then was the attractive anchor of the popular Superhit Muqabla show on television. Amitabh Bachchan's famed Corporation was looking out for a new heroine for its Tere Mere Sapne.
"Jaya Bachchan called me for a screen test and I was selected. I came to know that many faces were tried before mine was chosen,'' Simran says simply.
This simplicity and lack of affectation are what strike you most about Simran. No big talk. No airs.
Tere Mere Sapne came and went. But Simran who had come down South for the shoot stayed back. It was undoubtedly regional cinema's gain. The ``Aankh Maare...'' girl had arrived... in the South.
"I stayed back because I was offered a Malayalam film with Mammootty, which I accepted,'' she explains. The film was Indraprastham which was later dubbed in Tamil as Delhi Durbar.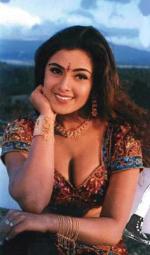 What is this Mumbai girl's impression of the city that has adopted her? ``I have not settled down here... but yes, I like Chennai a lot... its atmosphere, its people... they are conservative and very simple, the place is very peaceful... and of course, the delicious dosas and idlis...,'' she flashes the ravishing Simran smile.
But the smile vanishes and seriousness sets in, when the topic shifts to the gossip columns and the calumny they inflict on actors and actresses. ``We are human too... it is so unfair particularly when most of us are quite accessible. Why don't they talk to us before putting things in print? Such mudslinging will get people nowhere.'' The wrath is evident and the hurt shows.
In between receiving calls, changing for her shot and giving instructions, Simran comes out with views that are forthright and counters that are effective.
Even as she was working for the Malayalam film, director Vasanth approached her for Nerukku Ner, with Surya. Soon Simran was working in a host of Tamil films — VIP, Poochudavaa, Once More — the list became endless and Simran continues to be a busy star till date.
Since Valee proved Simran's mettle as an actress, the roles that come her way have all been performance oriented... ``And I intend keeping it that way. Every role I am doing now is different. In Pammal K. Sambandham I am doing comedy for the first time and I realise I have a flair for it. K. Balachander's Paarthalae Paravasam again is different and so is Maniratnam's Kannathil Mutham Ittal... with Madhavan."
I Love You Da will see Simran paired with Raju Sundaram. The subject is match fixing.
She is thrilled to be working with veterans like Kamal Hassan, K. Balachander and Mani Ratnam. ``Everyday I learn something,'' she says.
The topic moves on to her directors. ``Each one of them is talented and working with them and their units have been enriching experiences... K. Balachander is like a school principal... and with him I learn 10 new expressions in a day."
What about his much talked-about temper? ``It could have been there earlier. I have also heard about it. Now he is very cool and his energy stuns me. During a shoot which lasts from 7 a.m. to 10 p.m., the man is absolutely energetic throughout, while Madhavan, me and others are fagged out. He is such an inspiration...,'' the paeans go on. Such drive and zest she sees in Maniratnam also.
The only other big hero Simran has not worked with so far is Rajnikanth. ``See... he does a film once in two years. But still I'll be glad if I get a chance to work with him."
"He is so elastic, like a rubber band'' she laughs while talking about Prabhu Deva, her co-star in VIP and Time. ``I had seen Hum Se Hai Muqabla (the Hindi vrersion of Kadhalan) four times and was blown over by his dance movements. Imagine my surprise when I heard he was waiting outside my room to meet me regarding VIP. Dance seems to fascinate the actress. Simran herself comes across as an extremely graceful dancer. ``Yes...I am very interested in dance, though I am not formally trained in it. I've taken part in dance competitions in school and college and won prizes.''
Sitting on the cot in a casual pair of trousers for a while and then returning to talk in a navy blue mangalgiri churidhar, the attire for the next shot, Simran looked simply beautiful. Simran compliments Vasanth, her director in ``Naerukku Naer'' as one who ``can make his artistes act" .

When director S. J. Surya, first met her for Valee she did not even think he was a director. ``He is so simple, yet so talented. He was constantly encouraging me. In fact it was a very good team as a whole.''
"People here are a hardworking lot,'' feels Simran. ``And I fit in here very well, basically because I love hard work".
The first Tamil film Simran watched was Kamal Hassan's Avvai Sanmughi. The language was very new and hence very tough initially. But today she's quite fluent in it. ``I did not employ a tutor. Instead I saw to it that all my assistants spoke to me in Tamil. I learnt around four words a day. But the best thing is, here even the panwallah and rickshawallah can understand English?''
Simran never wrote out her dialogue in Hindi even at the beginning. She took the help of a prompter then... and now she doesn't need prompting either.
"I want to begin dubbing for myself soon.. let's see..." _ naturally, because in any acting performance the voice plays an essential role. Simran feels it is important all right, but the body language, facial expressions and appearance would make 80 per cent and the voice does the rest. ``Savitha and Saritha have been dubbing for me. And if you notice, the range of my voice and theirs is similar. So I feel their dubbing suits me to a T.''
Simran is carving a definite niche for herself in the Telugu cinema scene today. She has acted in around 15 Telugu films. Her histrionic capabilities come to the fore in the recently released Telugu film Daddy, in which she is paired with Chiranjeevi. As the young, agonised mother who loses her child, the trauma, and its culmination in righteous anger have been convincingly portrayed by Simran in Daddy, directed by Suresh Krishna. "Yes... I cannot do the run-of-the-mill roles anymore. I need well-defined characters which give me a chance to perform. Kamal Hassan is my greatest inspiration in this aspect".
True... Kamal too had to accept purely commercial films till he gained a foothold. After that mere formula films were not for him. Each role has been a different experiment. But in an industry which is entirely male dominated, what variety in characterisation can an actress expect? ``Yeah... there are limitations, I agree. But even so I like to do a variety of characters.''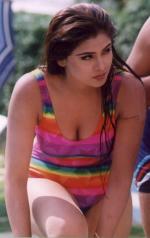 The conversation naturally shifts to Paarthein Rasithein. Simran played the shrewd, conniving, jealous girl who wanted to marry the man she loved at any cost. A very powerful role to which the actress did ample justice. It is films like Valee, Paarthein Rasithein and Thullatha Manamum Thullum that proved that the girl is not just a glamour doll, but an actress with tremendous talent. ``Nandita Das was also to be in Paartherin Rasithein . It was a two-heroine subject and I was asked to choose the role I wanted. I chose the negative one and it paid off. And about films like Time ... there isn't much to say.''
Simran is multi-lingual in every sense. She has done a Kannada film too — Simhada Mari.
With plaudits from fans and friends, the actress must be quite satisfied seeing herself on screen. ``No... when I see myself, I notice only the faults" , she says with a smile.
She is the friendly, loving sister, when she waxes eloquent on her sibling's talent. ``Monal is a very good dancer and she's beautiful. Her first Hindi film Maa Tujhe Salaam is to be released soon... and she is very much younger to me.'' The last point has to be reiterated because there are those who feel Monal looks older than Simran.'' The other sister, Jyothi, is in Mumbai studying. ``We are a close-knit family — mom, dad, brother, sisters...''
A confident Simran fields all the queries with elan. She has come a long way and is all set to make bigger strides.