(Surya-Trisha)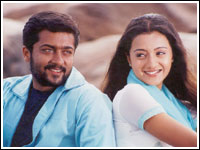 'Nandha' was a turning point in Surya's career, because it was only after this film that the industry started taking him seriously. For the hero, who had done soft roles earlier, it was an image change too. Now Surya is acting in the same banner's second production titled 'Mounam Pesiyathe'. Paired with him is Trisha, with Mumbai actress Neha playing a crucial role. Dance master Anju Mahendra gets to do some comic antics, and a new face Nandha too is being introduced.
Produced by Aparajeetha films, 'Mounam Pesiyathe' is directed by debutant Amir who had worked with director Bala for his two films. A song was picturised at the AVM Studios. It was supposed to be Valentine's day and it had Surya celebrating with a song, with Trisha for company. Several artistes and dancers too took part in the scene. Cranking the camera was Ramji. A light-hearted romance where the hero and the heroine who are college-mates and friends, start realising that they love each other, but have a difficult time expressing their love.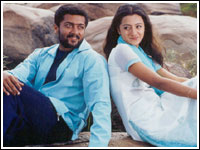 With music by Yuvan Shanker Raja, the rest of the songs were shot at locations in Mysore and Pondicherry. From playing the romantic hero in his earlier films to the toughie in 'Nandha' and 'Sri', this film will have Surya playing the typical hero, with his share of songs, dances and fights.