Pallavan
(Manoj K.Bharati, Rathi, Mukesh, Shanker)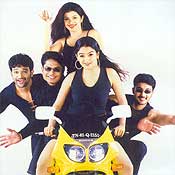 Pallavan was the name by which Chennai's state-owned city buses were known earlier. Now a film comes with that title. Produced by Rufus Parker, an NRI, for Usha Theaters, 'Pallavan' has Manoj K.Bharati playing the hero. With him are two debutants Mukesh, and Shanker, nephews of actress Jaibharati. Rathi plays the female lead. "College days are an unforgettable part of our lives. Particularly, travelling by bus, the interactions, falling in love, the chasing, etc. I've tried to depict this in my film," says director Padmamagan. He has written the dialogues for the Lawrence starrer 'Style', and this is his first film as a director. As for his unusual name? "My mother's name is Padma, and that accounts for my name!" adds the director.
The supporting cast has Nasser, Ilavarasu, Madan Bob, Mayilsamy, Nalini, Chaplin Balu, Kumari Muthu, Abhishek, and Shara from Bangalore. The film has music by Vidyasagar, cinematography by debutant Lakshminarayanan (earlier assistant to Jeeva), editing by Pazhanivel, artwork by Vivek-Deva, dance and stunt choreography by Cool Jayant and Rajasekharan respectively.
With a college campus backdrop, it is about two brothers who love the same girl. The elder brother being born in a bus has been given a life-pass to travel by it. Since it revolves around a bus, 75% of the shooting takes place in the bus. Recently, in Chennai, a song was shot in the bus - of students celebrating 'bus-day'. Lots of character artistes, boys and girls playing students, were on top of the bus dancing and singing. As Lakshminarayanan canned the shots, Padmamagan with dance choreographer Cool Jayanth was instructing the artistes.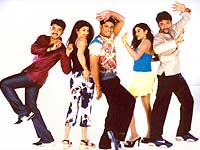 Yet another scene was canned in a bus and taking part in it were Manoj, Rathi comedian Kumari Muthu, and some junior artistes playing the hero's friends. It had Kumari Muthu playing a ticket checker, Nallakannu. Nallakannu stops the bus, gets in and checks each one's ticket. A group of youth say they are friends of Pallavan, and don't possess tickets. One of them cheekily hands over a cinema ticket, to Nallakannu's fury. An exasperated Nallakannu finally screams and asks who Pallavan was. Suddenly a youth comes forward and says that he's Pallavan. "My father is the driver of '1C' bus, so I don't have to buy a ticket," he says cheekily. "He's only a driver, not a minister, isn't it? Then why are all your friends travelling free?" Nallakannu demands angrily. Pallavan, seeing Meena watching the scene, whispers to the checker to let him go since the girl he loved was in the bus and a witness to the whole scene, and it was getting embarrassing for him. Manoj, Rathi, Kumari Muthu and some junior artistes participated in the scene. 'Pallavan' is slated for a September release.