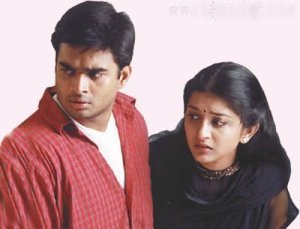 Madhavan in an action film?!? Dude has lotsa nerves. Director Linguswamy has used this surprise factor to his advantage with his excellent screenplay in his latest film 'Run'.

We have seen plenty of 'afraid-of-elder-bro' love stories before, but we don't mind a bit watching this film. The film doesn't tire us. Why?

That's the magic a good screenplay spins.

A beautiful love story, touching sentiments, storm-raising action sequences, Vivek's comedy, fantastic songs and a little bit of thrills here and there- Linguswamy's screenplay has a perfect mix of everything in the right ratio.

Madhavan comes to Chennai to pursue higher education. He runs into Meera Jasmine. He loses his heart. But, Meera Jasmine, fearing her elder brother who is almost a rouge, avoids him. Her worst fears come true. Her elder brother comes to know about it and sends his henchmen to beat the daylights out of Madhavan.

That is when you get to see Madhavan's courageous other side. It's atypical case of a young calf knowing no fear. Madhavan thrashes them wildly. Love begins at that point. So does trouble!

The rest of the film is about how the young lovers face the problems and overcome them.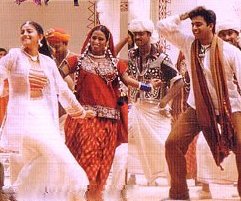 When they run into her brother's henchmen in the sub-way, Meera Jasmine asks Madhavan to flee. Madhavan runs… He runs towards the entrance of the subway, pulls the shutters down and comes back to deal with them. Wow! You have to be in the theatre to watch the applause that this scene receives from the audience. Awesome! With that stunning scene begins Madhavan's action sequences.

Madhavan's spirit and actions are beautiful to watch. He is the romantic fantasy of most of the college girls these days. It's indeed surprising to see him do such a fabulous job in an action hero role- a calculated risk on his part. When he threatens the villain over the phone, his voice matches the expression on his face.

With 'Run', Madavan's new innings begin. We wish him all the luck in the world.

Meera Jasmine has got sharp features. She fits the role a 100%. Its pretty realistic to watch her plead with Madhavan in the initial scenes, out of fear for her elder brother and then see her love him with all the sweetness in the world. The way she challenges her brother to fight with Madhavan one-to-one in the climax scene is a new thing for Tamil cinema.

Raghuvaran- Anu Hasan have portrayed beautiful characters. They play Madhavan's brother-in-law and sister. Madhavan and Raghuvaran don't speak to each other over some misunderstanding. The scene in which Anu Hasan sheds tears of joy when she hears that they have finally began speaking to each other has been perfectly done- neither hamming, nor under-acting. It was a perfect sentimental scene.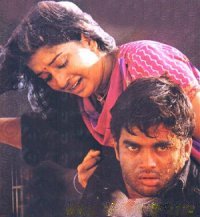 Armchair villainy is something new for Tamil cinema again. But, the way the villain gets defeated regularly by the hero gives the feeling of uneasiness.

Vivek's comedy runs on a separate track. The flashbacks in which he clashes with his father are more fun than his sufferings as a lone man in Chennai.

Vidhyasagar's pleasant songs have teamed up with Jeeva's cinematography and Raju Sundaram's excellent choreography to make them absolutely mind blowing. Cho chweeet!

Linguswamy loves 1 rupee coins. In 'Aanandam', there was the 'Ottrai naanayam'song. Here, Madhavan's decision making tool is a 1-rupee coin. He tosses the coin each time he has to make a decision.

The greatest plus of the film is the unexaggerated stunt sequences. An air of tension is created- will the young lovers unite in the end? Then, Madhavan goes about dealing with the villain. The mix of tension and action has been done perfectly. The director creates an excitement in every scene and continues it till the climax. The climax has more excitements in store for the audience.

Madhavan declares that he is going to take away Meera at exactly 9 A.M. the next morning. He then tricks the villain and manages to do what he said he would. Another super sequence that leads the audience to a fitting showdown.

There, a very lifelike clash between the villain and Madhavan ensues in which the hero defeats the villain. With that ends a prolonged battle for love. Courage wins this battle for them.

Honestly, there is nothing new about the film's story. But, Madhavan's new incarnation as an action hero and Linguswamy's racy screenplay has made this a thoroughly enjoyable experience.