(Satyaraj, Pratyusha)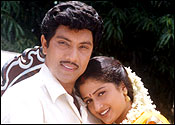 Nandini is a medical student and stays in the hostel. One day Nandini is surprised to see her father at the hostel. He tells her that he needed some money. She replies that she was still a student and how could he expect her to give him the money. Her father taunts her that he had seen her remove her gold bangles and earrings the moment she had seen him enter. He urges her to give him those. Nandini replies that those were bought from the hard-earned money of her mother. She declares that she has no intention of parting with them, and handing them to a drunkard and a wastrel.
Nandini's father tries to snatch her purse, but a hand suddenly stops him. It is Kumaresan, who warns the man off. "Aren't you ashamed to behave like this? Why do you come to the hostel and embarrass her?" Wild with rage Nandini's father replies that it was nobody's business as to how he behaved with his daughter. Kumaresan retorts that it was very much his business, since it was he who was footing the money for her education. This enrages Nandini's father further and he gives Kumaresan a tight slap. A furious Nandini shouts at her father and demands that he leave the place. "Kumaresan is everything to me. Without him I wouldn't be here. I don't like you insulting him!" She says to the shock of her father. This scene was shot at Pollachi for the film 'Sound Party'. Satyaraj played the role of village landlord Kumaresan while the role of Nandini was played by Pratyusha. G.R. (the producer of the film) played her father.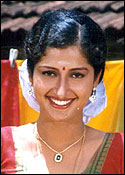 Satyaraj plays an illiterate village landlord who spends most of his savings to see his neighbour Pratyusha get her medical degree. He falls in love with her and intends to marry her. Some scenes were shot where the hero on hearing that Nandini's father was finalising her marriage to a guy from the U.S.A., goes to her house and asserts his right to marry her. "I've spent most of what I had on her education only so that I can marry her!" he says to the shock of the father and daughter. Scenes were also shot of the hero, who finding that there were no proper roads to his village, arranges for the laying down of roads at his own expense. For which he has reckon with the anger of the local MLA who sets his goons on him. The hero of course bashes them up and sends them packing. With Satyaraj in the scene were Ilavarasu as the MLA, and some character artistes dressed up as villagers.
With the shooting going on at a fast pace, 'Sound Party' has in its supporting cast Manivannan, Vadivelu, Anu Mohan, and Mayilsamy who play the hero's friends.