An Interview with Singer
Harini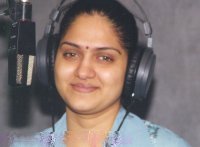 Harrini's house is in West Mambalam

As we enter the house, Harini's father Srikaran welcomes us. He shows us the awards and trophies won by Harini from her school days. "We never thought that Harini will come this far. All glory to God!", he is all smiles. As we see the delight and gleam in his eyes we are reminded of the Kural verse in Tamil, "Magan(or Magal) Thanthaikkatrum Udhavi (The priceless heep done by a son to his father)...."

Tamil Cinema has been dominated, for many years, by the female singers having Malayalam and Hindi as their mother tongues. But now Harini has started carving a niche for herself in their midst. Hers is a banner of glory. This is a rare phenomenon in Tamil filmdom.

Beyond all doubts, she had done Tamil proud. Here is a rendezous with Harini:


How is that all the songs of Harini turn into hits?

A mild laugh is her first word. "A catchy tune and some good lyrical lines contribute towards the success of the songs. I must thank the music directors who think that a particular song would come out very well if I sing it", continues Harini.

"Ilayaraja would expect us to bring in the effect needed by him in trition. But A.R.Rehman would yield place for our opinions too. The new music directors all follow the line of Rahman. In those days there were only two or three music directors. But today many people have entered into the music world with lots of tallents and they are working wonders," harangues Harina.


How is it possible for her to sing her songs extempore without any reference, on stage?

I do have a strong memory. I know all the songs hither to song by me by heart. Therefore I don't require any bits to see to. I don't have the habit of writing down the notes even for carnatic music"

Her Tamil is crystal-clear. Her voice is sonorous. Whether these assets won't do to dub voices for actresses?

Of course there were opportunities. But I am not interested. I will have to shout sometimes if I were to dub voices. Would it not affect my voice? Harini gives a safe reply. She has retrieved an invitation to act from K.Balachander. But she has 'Isaiyodu Vazhven Isaiyaven' (I will live with music; I wil rather become music itself) as her theme song. So Harrini pushed acting away into shade.

The talk turned towards this year's national award. "Shankar Mahadevan is an able songster. This year's national award testifies to his great talent." Next she threw a bombshell.

"I don't know whether it was correct to give the national award to Bhavadharani. They say there were many problems in the distribution of this year's national awards too. I don't desire to tell anything more about national awards!"


What is the reason for the sweetness of your voice?

"I am used to avoid things like ice cream and savouries. If I feel the urge to eat them sometimes I would go in for them. When there is no recording to attend to. I find it difficult to manage when I go to the countries in Europe, as I am pure vegetarian. I would, then, be living on bread alone.

She is studying M.CA in Madras University. "I don't know why at all I have joined in that Course?" We have to pity her. (Be careful Harini. Don't get any 'cup' in your college as you had won hundreds of cups in your school years)v Harini has given a congratulatory certificate from Chitra as the next best songstress. "I like Chitra very much" Harrini says gladly "She is very kind despite being a great singer. My respect for her has naturally increased since she has praised me highly."

She rates the Tamil Nadu state Government's award as the highest among the tributes. She has ever had. "I was only seventeen when I received that award"

Emotion chokes her when she says that she owes all her greatness to her parents. "There won't be any Harini at all without them. I have attained this stage as I was constantly egged on by them ever since my childhood. They accompany me while I go for recordings during nighttimes. It is they who protect me, my fame and finances."

"When I lose chances to sing in Tamil filmdom, I will plunge completely into carnatic music in which I have undergone training from my childhood."

Harini being an M.C.A student and a member of the younger generation talks very high of Internet. Says she, "It is a wonderful discovery. One can learn many things from it. You can make S.T.D calls also free of cost. You can make friends with people and chat with them. I am able to chat with my fans directly. It is useful in multifarious ways to all".


How does she feel about her successful masquerade as the single playback singer on the distaff side having Tamil as her mother-tongue?

"It is saddening to think that the number of Tamil playback songstresses are very few in number. There are many good Tamil songstresses. But I can't understand why do we bring down some people from the Hindi hearthands to sing in Tamil Cinema. Know it from me; all these things would change upside down within one year from now. Soon, you can see for yourself; you will be finding many Tamil songstresses in our industry, for sure!". Harini winds off her interview with these words.

Let us hope that the prophesies made by this Cuckoo would come true.