Tamil movies for the New year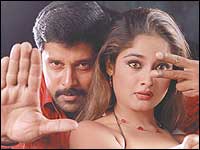 Tamil New Year is round the corner and it is time again to take a look at the new film releases. This time it is the younger crop of heroes who are dominating the scene, with Vijaykant from the senior lot being the lone exception.
'Gemini', the 162nd film from the AVM banner, comes four years after their last release 'Minsara Kanavu'. With Vikram is new face Kiran who has done a cameo in Ghai's 'Yadein'. The supporting cast has Kalabhavan Mani and Murali - the talented Malayalam actors. With Bharadwaj scoring the tunes, Venkatesh canning the shots, Thota Tharani and Suresh Urs in charge of the sets and editing, respectively, the film is written and directed by Charan. Charan who has a penchant for changing his ambience from film to film, has the evening college as the backdrop to this love story between a North Indian girl and a South Indian youth, who had taken to being a rowdy in his early teens.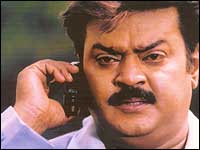 The Vijaykant-Shamita Shetty (Sibling of Shilpa Shetty) - Priyanks Trivedi starrer 'Rajjiyam' produced and directed by Manoj Kumar, has Vijaykant playing Kartikeyan, the head of a security agency. Popular Malayalam actor Dilip makes his Tamil debut and plays Vijaykant's sibling. With a supporting cast of Prakashraj, Raghuvaran, Nasser, Senthil, Goundamani, Vadivelu, the film has music by Bharadwaj. The sets are designed by Shanmugham, editing by Mohanraj and cinematography by Kartikraja. For the hero's fans, there are some thrilling fights arranged by Super Subbarayan. Like the fight taken on a revolving bamboo with the hero and the villain standing on either edge. Another highlight is the bamboo-like fortress erected for the villain's den. Enough to please Vijaykant's fans.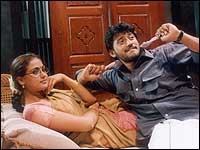 Vying for the festival release are two films with similar sounding names. 'Thamizh' and 'Thamizhan'. 'Thamizh has the successful team of Prashant-Simran, with Livingston, Ashish Vidyarthi, Vadivelu, Charlie, Raghuvaran, Nasser, Urvashi and Rajan P.Dev in the supporting cast. Produced by Deivanai movies, it is directed by debutant Hari who had apprenticed with directors Balachander and Charan. With action, sentiment, and humor thrown in, Prashant plays Thamizh a youth who fights against injustice. Music is again by Bharadwaj, editing by Lenin - Vijayan, stunts choreographed by Super Subbarayan, sets designed by Mohan-Mahendran and cinematography is by Venkatesh.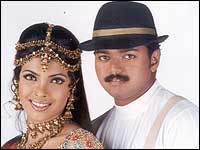 'Thamizhan' has former Ms. World Priyanka Chopra paired with Vijay. Produced by G.V. (five years after his last release 'Indira'), the film is written and directed by debutant A.Majid who had assisted director S.A.Chandrasekhar earlier. Revathi, Nasser, Ashish Vidyarthi, Vivek, Vasu Vikram, Sethu Vinayakam, and Balaji have been roped in. It has a new technical team of music director Iman who had scored for serials earlier & has been roped in to set the tunes. Cinematography is by Ekambaram who had apprenticed with Jeeva. While the sets are designed by Sabu Cyril, dance choreography is by Raju Sundaram, and stunts arranged by Kanal Kannan. Vijay plays a villager whose efforts to unmask the traitors of the country, earns him their wrath, but the praise of Tamilians all over. Both Vijay and Priyanka have crooned a song for the film.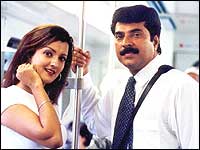 Mammootty and Hamsavardhan play the title roles in 'Junior Senior' with debutant Leena from Malaysia, and Charulata from Kannada films keeping them company. Produced by Loganathan for Shakti international, the film is directed by J.Suresh. With a supporting cast of Ramesh Khanna, Charlie, Pandu and K.R.Vijaya, most of the film has been shot at exotic locations abroad, in places like Malaysia, Singapore, Thailand and Kuala Lampur. The stunt scenes arranged by Kanal Kannan are a few of the other highlights. While Ramesh cans the shots, dance choreography is by Tarun Kumar. Yuvan Shanker Raja, who sets the tunes, makes a cameo appearance in the film.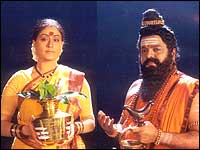 In her 175th film 'Shri Bannari Amman', action-queen Vijayshanti dons the role of the Goddess, her first attempt at playing 'divinity'. Reportedly inspired by an incident that took place at Coimbatore, the film is directed by Bharati Kannan and produced by S.Rajaram of Mahalakshmi films. The film introduces popular Telugu actress Laaya to Tamil and has Karan, Vadivelu, Vinu Chakravarty, Thyagu, Srikant, Rajan P.Dev, Sivakasi Pandian, and Pasi Sathya in the supporting cast. Vijay cranks the camera, Antony Peter designs the sets while lyrics and music are by actor-director T.Rajender. Scenes have been shot at many of the temples in Tamil Nadu. The 65-foot statue of Lord Siva at Bangalore had Vijayshanti performing the 'Rudra Thandava' to evoke the Lord