Samasthanam
(Sharat Kumar, Suresh Gopi, Abhirami, Devayani)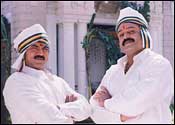 Sharat Kumar and Malayalam superstar Suresh Gopi team together in Roja Combines new film 'Samasthanam'. Playing the female leads are Devayani, Abhirami and Haripriya. It is a Tamil film that Suresh Gopi has signed after his much acclaimed performance in the Ajit starrer 'Deena'. 'Samasthanam' is written and directed by Raj Kapoor, the director - actor.
The supporting cast has Goundamani, Senthil, Manivannan, Rishi, Ashish Vidyarthi, Chandrasekhar, Ramji, Sabita Anand, and Vadivukkarisi. With Deva setting the tune to the lyrics penned by P.Vijay, cinematography is by Balamurugan.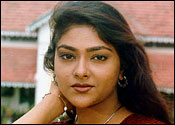 Some scenes were shot at locations in Pollachi, where Sharat Kumar, Suresh Gopi and Manivannan participated. Thiru is a wealthy business tycoon who makes a trip to the village to see his sister. As he enters the village he sees a pregnant woman screaming in agony, no one bothering to help her. Thiru rushes to her, lifts her and puts her in his car. Suddenly an elderly man comes there with his henchmen and warns Thiru from helping the woman. In the verbal skirmish that follows, the man gives a tight slap to Thiru. Surya who hears of the incident rushes to the place and is surprised to find his friend Thiru there. Seeing that it was his uncle who had laid hands on his friend, Surya reprimands him for it. Sharat played Thiru, Gopi was Surya and Manivannan the uncle.
Yet another emotional scene was shot on Suresh Gopi and Sharat Kumar who play buddies -Surya and Thiru respectively. The buddies face a trying time to their friendship when after a verbal skirmish following some incident, Thiru slaps Surya. A shocked Surya, however, doesn't retaliate and returns quietly home. Thiru, ashamed of his own behaviour, goes to Surya's house to apologize. When he reaches there, he sees to his surprise Surya laughing and jokingly telling everyone about the incident. Seeing how sportingly Surya had taken the whole incident, and also his magnanimity, Thiru is not able to hide the tears that come rushing down.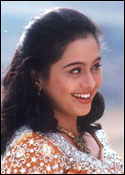 A lighter scene was shot on Suresh Gopi, Goundamani and Devayani. Thangamani was on the look out for a suitable groom for his only sister Divya. And he found the right guy in Thiru who was kind-hearted and noble. Thangamani decided to approach Thiru through his friend Surya who was close to both the families and he knew that Thiru would not refuse Surya. So one day Thangamani invited Surya home for lunch. While Surya was surprised at the lavish spread, Thangamani revealed his intention, which shocked Surya even further. Suresh Gopi, Goundamani & Devayani, played the roles, while Balamurugan canned the shots, and Raj Kapoor directed the artistes.