"Thamizh" had hit the jackpot, unexpectedly.

This story too has got rowdyism. But, the one thing new about this film is the fact that it has been told with the pain of emotions mixed with it. And, the performance of each star had added polish to the film.

Prashanth dreams of going to Kuwait, but is forced to take up arms due to the harassments of the local goons. When, out of anger, he chops away the hand of Aashish Vidhyarthi, his life takes an abrupt turn. He becomes a rowdy himself and destroys his enemies. The end? His brother from Kuwait, Livingston, reforms him. He reforms too, with surprising twists and turns.

The beautiful flow of screenplay holds our attention to the story. The character of Prashanth's, that sacrifices his dreams and his love for the sake of his family, has been built very well.

Prashanth's physique had been aptly brought out in this film. Anger and pace comes naturally to him. This film will be a turning point in Prashanth's chocolate hero career.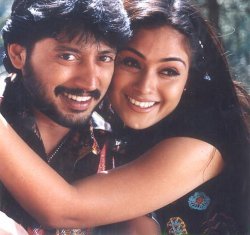 Simran looks stunningly good in the first half of the film. But, the way she abruptly clings on to Prashanth is hard to digest. Otherwise, she still has got bundles of reserve when it comes to acting.

Prashanth's family is a happy family. His Sister-in-law Urvasi manages to bring a little bit of laughter here and there. Livinston's role has got some perfect emotion too. What's unclear is how did he manage to solve the "Hand chopping" case along with all the other cases that were filed against his younger brother.

Aachi's acting is A-1. As usual. If you subtract the getups of Aashish Vidhyarthi, his acting still scores an okay, okay.

Nazar too is a rowdy, but a jolly good one.

Songs are extremely ordinary. But, they didn't make us leave our seats. Priyan's cinematography had absorbed everything around it without hurting anything much.

Manorama's death during the climax and the string of events that follow it have been done very well. The director had enriched the film with his knowledge of the pulse of the audience - the kind of scene would make the audience angry, happy, laugh, cry in short, empathize with the character.

When one leaves the theatre, one gets the satisfaction of watching a good film. This feeling has been rare in recent lives. "Thamizh" has turned out as the thirst quencher.


Wow...
Buss...


Prashanth's performance


Screenplay


Music